We offer the finest pet food at affordable prices
Featuring the finest pet foods available, from traditional dry and canned, to the latest grain-free diets, as well as a varied selection of raw and cooked frozen foods. We strive to offer you the widest variety of nutritional options for your pets. We carry everything you need for cats, dogs, small animals, birds, reptiles, and fish. Come see us for the broadest line of fresh frozen raw diets in the region!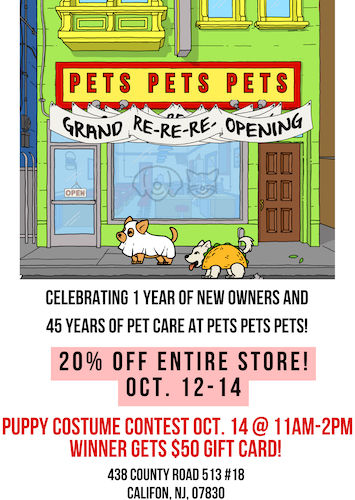 ASK US ABOUT A BALANCED NUTRITION PLAN
We are very proud of our line up of dog and cat foods, offering products from over two-dozen manufacturers of the finest natural and holistic foods available. Our selection includes both kibbled and canned foods as well as several freeze-dried foods and no less than four brands of raw frozen diets.
12
CURRENT & UPCOMING DEALS AT Pets Pets Pets
Print off a coupon and bring it into Pets Pets Pets to get deals on the best pet supplies to help keep your pet healthy and happy!
Pets Pets Pets IS ON INSTAGRAM
Follow Pets Pets Pets on Instagram for great photos of our locally-owned pet supply store,
deals on pet food & supplies, upcoming events, and more!
Follow Us
Come visit our pet supply store in Califon, NJ specializing in quality food, treats, and supplies for cats, dogs, small pets, fish and reptiles.